Luggage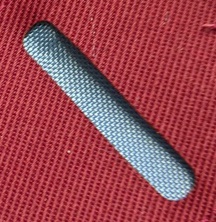 .
.
Square & rubbery.
Large & small at the same time.
With internal pockets for stuff..
With an external mesh pocket, for the damp stuff..
In search of the grail - the one pack that does everything.
Regular daypack size, with a big organiser-pocket and a bottle pocket.
Simple, compact. The elliptical pocket allows a little light into the depths of the bag.
A simple daypack, with a Kevlar back & a metallised Mylar outer.
Flexible nylon ribs, and lacing for expansion.
Well, not *really* crocodile.
A compact, organised courier bag.
A toolbelt.
Elle
Sturdy.

Steel briefcase
Welded from quarter-inch plate, this briefcase is robust but so heavy as to require a two-handed lift.

Stout white canvas, with straps & D-rings. This is a briefcase to confine the most dangerous documentation.
Travelling bag
Universal luggage for major travelling - a big rectangular bag with hideaway rucsack straps and a bunch of zipped pockets.
MdR bag
Just a standard soft briefcase, really, made from two panels arranged tennis-ball-style, with a foam stiffener
Rachael changing bag
The perfect babybag - places for nappies, bottles, changing mat. Washable.
Waistcoat-backpack
The mutant offspring of a wide-strapped daypack and a fisherman's waistcoat.